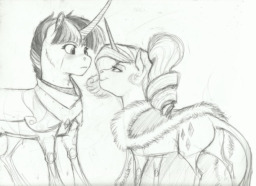 Source
Returning from a diplomatic summit, Princess Rarity's party is attacked by bandits. Upon returning home, she demands why her bodyguard Twilight had seen fit to shove her into the river during the fight.
When she learns why, she is taken aback, learning for the first time the role that Twilight had undertaken.
Artwork by Earthsong9405
Inspired by the Bodyguard!AU Series, based on Earthsong9405's AU where Twilight is the bodyguard to a "Princess/Queen Rarity".
Chapters (1)