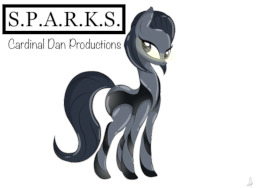 A collaboration with: Cyberfire22
Created from a magical experiment to help Twilight around the palace, Sparks is an all-knowing hard-light entity in everything but her social skills, at least until she meets Spike. When the princess is away, he takes the artificial intelligence on a day out to see Ponyville in all its organic glory.
Cover Art: V-D-K
Up Next: S.P.A.R.K.S. Explicit
Up Next: R.A.M.
Chapters (19)