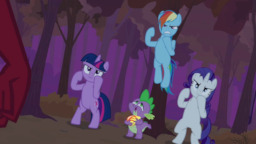 Luna and Celestia are bored, what better to do then mess with their beloved ponies, the only problem, Discord and Pinkie Pie want to help. Watch as Spike, Rainbow Dash, Twilight Sparkle, and Rarity are swept up by the forces of order and chaos as their love lives are turned upside down and revamped.
Will Team SpikeDash win the day?
Or will Team Twarity conquer all?
Or maybe even trickier pairings will emerge as the will of fate says lets just glue everyone together and see what happens.
Chapters (1)