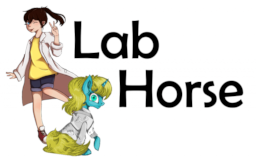 Let's see... how does this work again? Oh, it's already logging? Um... yeah, okay, hi there, whoever you are that's reading this! I'm Gadget, and I live with an old scientist dude who got fired from his job. Also, I'm a small unicorn that has an eerie resemblance to Smurfette.
One day, I hope I can figure out why the heck I look like I came straight out of My Little Pony.
Now, about that. You see, it's kind of a funny story...
---
Cover art made using Mutter_Butter's rendition of pony Gadget and Momoruuu's drawing of human Gadget/Zoey.
Preread by tsaukpaetra.
Chapters (15)