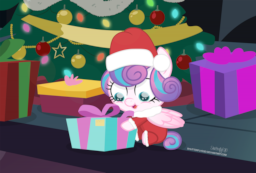 Source
Hearth's Warming Eve has arrived once again, and Spike has a very special gift for Flurry Heart that she is sure to love. However, some grumpy pony shows up from out of nowhere and declares his intention to ruin Hearth's Warming! Left alone, it's up to Spike and the Cutie Mark Crusaders to stop this pony and save Flurry Heart's Hearth's Warming. Can they do it?
---
Special thanks to all my proofreaders. Thank you for your time and input.
Featured on Equestria Daily: 12/26/2019
Featured on Equestria Daily's 20 of the Best Fanfics to Read for Spike Day 2021
---
Art by shutterflyeqd.
Chapters (5)