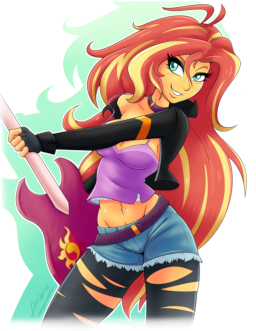 Source
Princess Celestia has lived for a very long time and, as such, has had many regrets. One of her biggest ones was driving away her beloved protégée, Sunset Shimmer, who had abandoned her and jumped through a portal to another world.
As time had passed, Celestia's guilt over Sunset had only grown. To resolve their issues, Celestia made it her mission to bring Sunset back home. Whenever the moon lets her, Celestia crosses the portal herself and uses the little time the portal allows to look for Sunset. Many moons and a few attempts later, Celestia finally finds Sunset!...Or does she?
The girl Celestia finds certainly looks like Sunset and even says that is who she is, but this girl claims to only be a simple guitarist and knows nothing about any "Princess Celestia." What will come of this meeting?
Chapters (3)