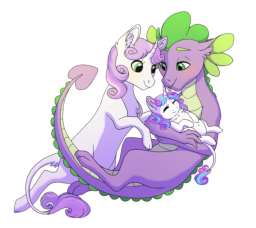 Source
When everyone else turns out to be too busy to do it, Spike volunteers to babysit Princess Flurry Heart for the day. He does his job all right for the most part, but things begin to shake up a bit when Sweetie Belle stops by and insists she help Spike take care of the baby. After some hesitation, Spike relents and decides to let Sweetie Belle help him. The day goes on and Spike and Sweetie Belle babysit Flurry Heart together, almost like their own little family.
Cover Art by Silcy, Commissioned by me.
Special thanks to Silcy and my proofreaders.
Chapters (1)