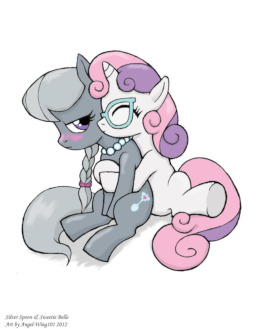 After a falling out with Diamond Tiara, Silver Spoon is befriended by Sweetie Belle. However as time goes by, the silver-maned filly quickly learns that she has slightly-more-than-platonic feelings for her new friend, and that some ponies aren't above petty revenge. Can Silver Spoon's new found feelings survive public humiliation, petty grudges, and potential rejection?
Cover Art and Chapter 9's art were commissions by angel-wing101, Final Chapter Art was a Commission by dragongirl983
If you use any without my or their permission, I will jump through the internet and murder you, so just ask first.
Chapters (17)