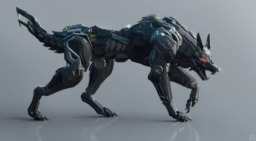 Source
Initializing....
Source Code Identified......
Playback Audio Feed......Operation: World Jump 2463197......Subsection; Mission Parameters......
.........Um, hello, my name is Doctor Daniel Phillips, and I am the lead scientist overseeing the Gateway Project, one of the most cutting-edge technologies in existence today. With it, we can open wormholes to worlds far beyond the reach of conventional space travel, and even into other dimensions if we can work out the right frequency. As of late we have discovered over a dozen habitable worlds that have been slated for colonization, but as of yet no signs of intelligent life. Yet I hold out hope that one day we might find such a world, however remote, and put our best foot forward in opening relations with our new galactic neighbors. Yet not all of the planets we find are poppies and roses, so instead of sending in humans to explore them, we have these little babies.
Oh, right, you can't see me because this is an audio-only feed. My mistake. Well, I guess I'll just have to explain it to you. These cybernetic wolves, known in our group as the Mech Hounds, are outfitted with the most advanced computers in the world, along with some of the most cutting-edge robotics and weapons money can buy. Now right at the moment we only have a dozen of these little critters, but don't let that fool you. Each of these little babies carries enough firepower to level a small town, although it would take them a couple days to do so if they were working alone. They also have the programing to work out almost any situation in a matter of seconds, although they still have many of the logic problems that most computers face when confronted with something that does not fit within the established parameters of their programming. Yet, regardless of their possible shortcomings, they do the heavy lifting upon initial exploration where humans cannot, dealing with threats as they see fit in order to assess the habitability of a planet for human use. I could tell you more, but that would be breaking protocol.
So, without further ado, I'll turn you over to our logistics specialist, who will be happy to tell you all about how these little babies are going to change the world, or rather, worlds, that humanity has come to call home.................
End Audio Recording........
---
This is a story that delves into the boundary between life and machine, where AI is something that has only been dreamed of, even with the most advanced computers available. Then again, these machines have never encountered magic before, so who knows what might happen. I guess you'll just have to read the book to find out for yourself.
Chapters (21)