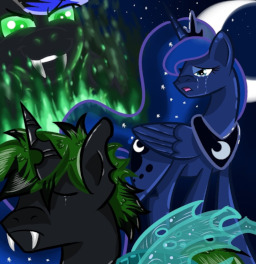 Source
Queen Chrysalis has a plan for the ponies who slighted her the last time she invaded. In order to take over Equestria and get revenge on those who foiled her, she sends her son, Prince Silver Jacket, to seduce and control one of the princesses. His target of choice, Princess Luna.
Disguised as a member of Luna's personal guard, Silver Jacket worms his way into the good graces of the royal family, with the aim of stealing a powerful artifact and turning it against the alicorns. With the power of all four princesses, Queen Chrysalis will be able to break free of her imprisonment and would be unstoppable in her quest to rule ponykind.
The only thing that could possibly stand in her way, and the plans she has for the ponies, is something that not even she could possibly foresee. Could Silver Jacket's feelings for Luna be more than an act, or was it all just a ploy to get under her fur? Only time will tell, and only fate knows the outcome of this battle for love and country.
Chapters (20)