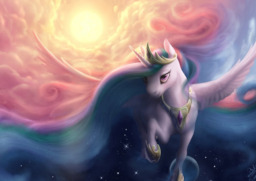 Source
At long last, Equestria has returned to a state of peace. Celestia can focus on the simple task of ruling her little ponies and bringing about Harmony.
Or she would, if she didn't feel that something was wrong. Wrong with her? Wrong with Equestria? She can't tell, and that only makes it worse. Perhaps her friends are right. Perhaps she's become so used to conflict she doesn't know how to relax.
That's what the voice tells her, anyway.
---
Preread/edited by Pascoite and OnionPie. Thanks for putting up with me, guys!
Cover art by blueSpaceling.
Chapters (11)