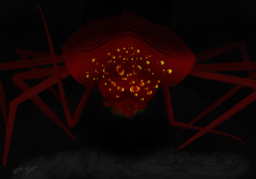 Source
This story follows After Moonfall, but it can also stand alone nicely.
---
The Crimson Queen. The Knight of Mirrors. Two ancient and powerful creatures, feasting in turn upon the love and hope of others. Imprisoned in stone aeons ago, now they are free... to hunt, to feast, and to plan their revenge.
Princess Mi Amore Anastasia Cadenza. Last survivor of the Crystal Royal Family, heir to the Amethyst Throne. Displaced in time a thousand years ago, she has materialized at last... with a power possessed by no one else in the world.
Between them, haunted by her failures, stands Princess Celestia. And she is determined she will not fail again.
Artwork by Sixes_and_Sevens. Please check out their excellent artwork and stories.
(Content note: Horror tag for (among other things) one of the main villains being a giant bloody spider. However, this is not a grimdark tale or a splatterpunk saga. I promise.)
(Chronology note: this story takes place years before the series begins, shortly after young Twilight became Celestia's apprentice.)
(Chronology note: from here, the timelines split, differentiated by (among other things) which mirror Sunset fled through, and the nature of Princess Luna's child.
The Sunset Rising continuity continues from here with 'Moon Childe.' In that chronology, Luna creates a child from her own mystical essence, and Sunset flees through the mirror which leads to the world of EG humans.
The Elsequestria continuity continues from here with 'Bridges and Guides.' In that chronology, Luna gains a child through a mystical pact, and the mirror through which Sunset flees leads somewhere very different from any human world.)
Part of the Elsequestria Continuity and the Sunset Rising Continuity.
Chapters (8)