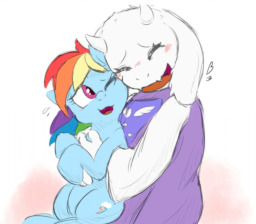 This story is currently under construction. Temporarily on hiatus.
Rainbow Dash wakes up in a bed of flowers in a cave as a filly with amnesia. Lost and confused, she's taken in by a goat monster named Toriel. That's okay though, as long as she has DETERMINATION she can get through this.
---
This story is a crossover with Undertale, but please keep in mind that things will be different from the game. If you haven't played the game I suggest you do! I do not own Undertale, that honor goes to the Annoying Dog Toby Fox!
Rated T for Chara's and Flowey's mouths. I'm not even kidding, those two swear a LOT.
Oh and it is also there because of the fact poor Rainbow Dash suffering way, WAY too much. I'm serious, that poor filly is likely going to need therapy once I'm done with her. (Only click if you do not mind spoilers, okay?)
Please also note that despite the fact that Dashtale has the "Death" and "Violence" tags, those are NOT the main features of this story. These are just occasional things, and I mainly just added them as a paranoid warning.
Additional tags: Family Bonding, Adoption, De-Aging, Cuteness, Fluffy and Cute Rainbow Dash, Smol Rainbow Dash, Friendshipping, more to be added.
Cover art by GamiJack
Chapters (14)