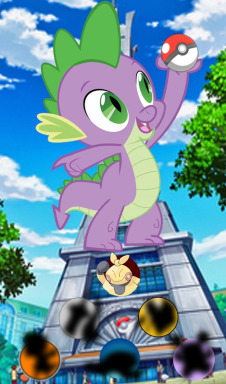 One day in the world of Pokémon, a mysterious aura pulse spreads across the skies of the Sinnoh Region. The professors have hypothesized that the aura pulse is a result of the legendries Dialga and Palkia, but what they haven't been able to figure out is just what has the aura pulse done.
That is, until someone finds themselves waking up to purple smoke dancing in his face.
With the help of the Professor and a certain young trainer from Hoenn, Spike decides to go into the world of Pokémon. To which he will go on an adventure in hopes to find some sign of the others. With a few new friends and a team of his own, will he pull it off?
(If you don't watch the show or even play the games that Pokémon is known for, don't worry. The story follows Spike's story a majority of the time. So even if you're new to how the show or game works then you'll be able to learn as Spike does.)
(Also, I'm not going to be revising this story all too much. I'll check for fixing grammar, punctuation and the such before posting them, but I'm not going to be too strict on much else. I just wanted to be the first to point it out.)
Chapters (11)