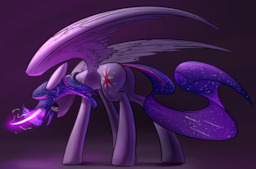 Takes place after season 5, but before season 6.
One year after the reformation of her star pupil, Starlight Glimmer, Twilight Sparkle decides to look more into the forbidden mysteries of Alternate Timelines. After tweaking around with Starswirl the Bearded's altered time spell, she tests it out in an open meadow.
But she honestly didn't expect it to work.
She honestly didn't expect to pull not one, but two blood covered children from beyond the veil.
And she honestly didn't expect to find herself fighting for her life against a desperate monster.
---
Second place winner of Art for Fanfiction's 2019 Summer Writing Contest!
I do not own the cover art. All rights got the the original artist.
Chapters (1)