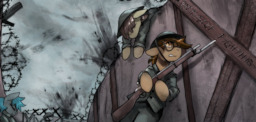 Source
The 179th Battalion occupies the critical town of Galloper's Overlook. So long as Equestrian forces hold it, the 3rd Army in valley below is safe from bombardment. Should the town fall, then the Northern Front will collapse. The battalion must hold.
But they can't. Outgunned, outnumbered, and surrounded, the 179th is running low on both ammunition and hope. Captain Tome, a stallion painfully aware of his own shortcomings as a commander, must find a way to stave off the inevitable. In war, ordinary ponies must rise to become the heroes everyone needs. Courage takes many forms. So do legends.
This story is part of the AU canon "War's Generation," but may be read as a standalone.
As this story contains graphic imagery of war, I am placing a link to the Veteran Crisis line here, as well as links to the national suicide prevention hotline and a list of international hotlines. There is no shame in needing help. In truth, it is courageous to ask for it. To those who served, you served us - let us help you.
---
This story is dedicated to all men and women in uniform, to ordinary heroes, and especially to the 101st Airborne, colloquially known as the 'Screaming Eagles,' and to the 308th Infantry Regiment, colloquially known as the 'Lost Battalion.'
The cover art used with the kind permission of Vole-A, who commissioned the piece from FoxInShadow.
Original characters my own. My Little Pony and its contents are the property of Hasbro, Inc. and its affiliates. Please support the official release.
Chapters (1)