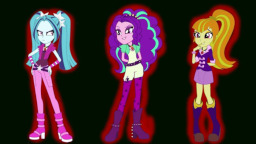 The Dazzlings were once high and mighty sirens, able to feed off of the hate of other species to enhance their powers of singing and manipulating others to their will.
But after the Battle of the Bands, the three of them were left powerless, deprived of what made them what they once were, and with no way to reverse it.
Or so it seemed, as one day, Sonata catches a perfect replica of all three of their gems being sold at a nearby pawn shop. Sparing no time, the girls decide to immediately purchase them and slip them around their necks to give them some sense of comfort after their tragic loss.
However, little do they know that these gems have some rather... different powers.
Chapters (19)