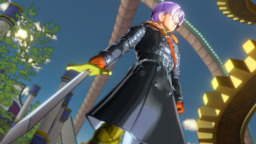 This is going to be a long mission.
I normally don't get involved in the timelines of other worlds aside from my own, but if this world is the reason the Supreme Kai of Time has gotten so riled up then it can't be good. Let's see...home to talking horses. Horses with magic. And wings. And a whole nation set up. Sure. I've seen weirder. But something is messing with the time stream, something that is constantly changing the time line of this world. And I can't allow that.
Guess it's my time to step in.
Trunks will be based off his future and xenoverse version. Yes, I like both.
Chapters (34)