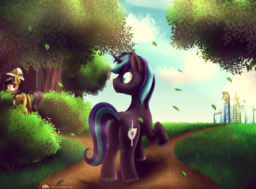 Source
Legend has it that on the longest day of the thousandth year, the stars will aid in her escape.
After one-thousand years of being bound in the celestial body, Nightmare Moon is free! Right alongside the poor sap that got bound with her.
Thrust into an unfamiliar world, with scars and memories that are now drastically out of place, this is the story of the former guard captain, Magic Barrier.
---
Do the words above sound familiar? If they do, then you've probably read my other story, A Pony Displaced. This tale isn't a sequel. It isn't a rewrite, though you might consider it a re-imagining of sorts. It is a tale of progression, one that I hope will show my development as a writer in both skill and quality. But more importantly, it is a story that offers exploration into one simple question. What if Magic Barrier had trotted down another path?
As always, thanks go out to everyone who helped me get to this point. In particular, thank you to Alticron, for editing, proofreading, co-writing, being my idea-wall, and arguably the single biggest reason this story saw the light the day, and thank you to Word Worthy, formerly Izanagi, who also edited, proofread, and threw ideas around with us. It wouldn't be possible without these two. In addition to those two I'd like to thank the newest member of the group Omnicron25 for his efforts in proofing/editing as well. Damn glad to have you on board mate.
Additional thanks to Wing for keeping me company late nights and for being a wordsmith when I needed one.
Chapters (54)