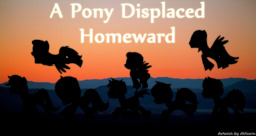 This story is a sequel to A Pony Displaced: Another Path
---
Many years ago, Magic Barrier lost countless ponies that he held dear to Sombra's madness and his dark powers. Some years later, he lost the few ponies he still had to hold dear when Princess Luna fell to her inner darkness, Nightmare Moon and was banished for one-thousand years... taking him with her.
Now, a thousand years later, Nightmare Moon has been defeated and Barrier returned to Equestria a thousand years out of place. To top that off, Sombra was eventually defeated as well and with his defeat returned both the Crystal Empire and some of the most important ponies in Barrier's life. Ponies that Barrier had long since written off as lost.
Now, with their Captain guiding them, the recently returned group has to try and find their place in the madness that is modern Equestria, overcome what was lost, and hopefully find a new way that will help cement to them that they're not as displaced as they seem.
---
I imagine some of you have waited long and hard for this sequel to release. There are some of you who may have been there since the beginning of my stint as a fanfiction author, where I promised -and failed- to deliver a sequel to my first story, A Pony Displaced.
I am saddened to say that I have failed you once again with this sequel... but someone has risen to pick up after me, for the sake of those waiting for this sequel, and my own.
Those of you who follow my blog already know this, but Alticron, my co-writer/editor/proofreader/idea wall/friend is going to try and see the story to completion, after I suffered another writing burnout due in part to personal problems.
As I stated in my blog, I have the utmost faith in him and his abilities to see this story through to the end, and hope you will all enjoy his writing as much as I do.
As always, I cannot state how thankful I -and Alticron- are to Chaos Phantasm, DE_K,ChasingResonance and CanadianPony for being the editors, proofreaders, and idea-walls who made this story what it is.
Chapters (64)