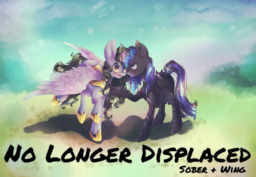 Source
Captain Magic Barrier is far from home. Almost everything he once held dear is gone—except for a pair of alicorns, the country for which he fought, and his skills as a competent military officer. And it's all thanks to a certain legend regarding the longest day on the thousandth year.
Professor Tail has got something to prove. A sharp mind and a quick wit in the world of academia, this pegasus is harboring a state secret that could change Equestria's defenses forever. She just needs to survive basic training first.
Now, a common ally has played her royal hoof to bring these two together. Perhaps she knows that once training is all said and done, the physicist caught in the unfamiliar world of guard service and the captain dragged through the ages will find themselves a bit less displaced.
---
So, this was a super fun one to write. Well, sorta-write. In truth, I wrote very little. This story is a collaborative effort between myself and this sexy topless Wingly fellow here, and it is based quite heavily off of our characters and their intertwined stories. The amount of work he put into this is staggering, and words can not express how bloody impressive it is/was. I mean, I was there supervising, but he bloody brought it.
Cover art by the amazing dream--chan!
We have a bunch of folks who helped Wing edit that deserve thanks. These are our editors, proofreaders, and coffee slaves!
Editing Slave Word Worthy, Coffee Slave Iryerris, rebellious slave that has to be beaten into submission regularly Doccular, to Shady's Slave Floofy, because typos can suck a knob, and to the Overcute Pet, Sixkiller5, because print runs need typo slaying.
Special thanks to Discount Slave Alticron, for letting us use a certain earth pony we want to crucify.
Wing's magical comments about various story timelines can be found here, but the gist is that NLD and its coming sequels exist in a separate continuity from APD.
Lastly, if you find any typos, please PM them to Wing You should also totally follow him too.
Chapters (30)