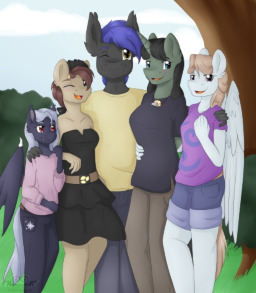 Devin Hall, a former human of sound mind is randomly catapulted into the magical world of Equis in an unfamiliar body. Hopefully with some help, he will be able to find a way home or at least adjust to this new world filled with magic and sorcery. However, during his stay in Equestria he is asked to help out the nation with one of it's most important matters to date. Unfortunately, this is much easier said than done.
This is a HIE story that I just wanted to write the first chapter to. If it gains some momentum, I will continue to add chapters. Rated T for cursing and implied sexual situations. Rating may change depending on feedback.
Update: Just got a cover art for the story and I am so very proud of it! It was drawn by my amazing friend Dreamy (Link here, who you should go support by either commissioning her or supporting her on patreon. She is seriously an amazing artist!
Chapters (4)