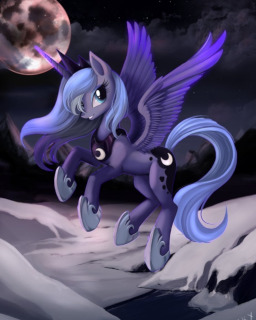 This is the first of the Moonlight's Redemption series, written by Hope.
Set 1000 years before the show, Princess Luna tells the story of Prim Rose, a young unicorn from a farming community near the coast. To escape from the pain of recently losing her sister, and to try finding some direction in her life, Prim travels all the way to Everfree City and the castle of the Two Sisters, looking for a job. She ends up meaning more to Princess Luna than she could have ever guessed.
This story was written half as MLP fanfiction, and half a love-letter-like story that I wrote for my wife, to bring her some comfort on lonely days.
This story was in part inspired by a story I deleted called Redemption in Moonlight.
Chapters (33)