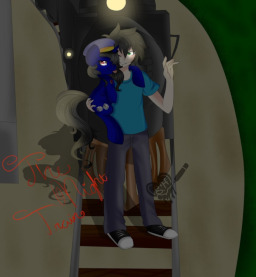 Eric Lancer has been stranded in Equestria for a few months now. After mysteriously appearing in the Everfree Forest, the human was forced to live with the fact that there was no way home. Taken in by Twilight Sparkle, all is well for the human as he tries to make friends with the local populace.
As it turns out, the locals of Ponyville aren't very friendly to an omnivore they know nothing about. Even the ponies he once called friends turn out to be manipulative xenophobes who are under strict orders from Princess Celestia to keep an eye on the untrustworthy human.
After learning of their true intentions, Eric leaves the town of Ponyville in the middle of the night. As it turns out, the human has a fate encounter that might just make his life worth living. And a certain mare might be along for the ride of her life.
Story is rated T for the following reasons: Flirting, mild/harsh language, mild violence, implied sexual situations, and pony x human relationship.
The story takes place after Season 3 of the show.
Update: Got a cover photo for the story! And I love it. It was drawn by the amazing Scarlet Heart. I will add a link to her DA. Go check her out, she is really good!
Featured: Yay!!! Featured in the featured box for like an hour probably, but I will take it! (2-22-17)
Chapters (3)