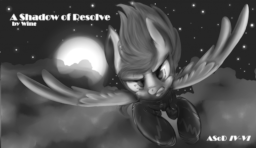 Source
This story is a sequel to A State of Darkness
---
The only currency in war is life, but at the end of it all, what matters is having friends at your side. That is what was spoken in the immediate aftermath of the Battle of Manehattan. We had forged a new peace with the griffons. We had prevented a war, but who could have imagined the game of targets that lurked just over the horizon? A Shadow of Resolve is the second trilogy of the A State of Darkness series -- the ongoing tale of the Wonderbolt DarkOps unit as it protects Equestria from threats, both foreign and domestic.
Note: Reading the prequel story is recommended.
Note 2: Currently on hiatus for reasons explained here.
---
First Featured on 2016-01-19 thanks to your awesome support.
Chapters (7)