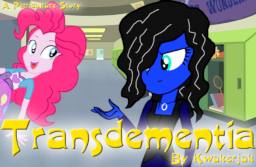 Source
This story is a sequel to Pandelirium
---
Things have started to settle down since Twilight Sparkle and Pinkie Pie were crowned as princesses of Equestria, but that doesn't mean that any semblance of normalcy will be arriving. The first major summit of Equestria's ruling princesses is cut short when a thief steals the Element of Magic and escapes to another world. However, because of Pinkie's rather unique skillset, Celestia sends her to retrieve it, rather than Twilight. But even though the other Element-bearers will be staying behind, Pinkie won't have to face this task alone....
This story is a continuation of the plotline begun in The Petriculture Cycle. The first story can be found here.
Artwork (and original story idea) by Page Turner. TV Tropes page by an unknown number of anonymous persons on the internet.
Chapters (16)