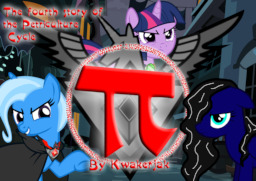 This story is a sequel to Avocation
---
Life in Ponyville has been relatively quiet recently, which is somewhat surprising, given that the town's librarian tried to usurp the Equestrian throne only a few months ago. Aside from the appearance of a grumpy pegasus who set up shop as a cloudsmith, the aftermath is so unnoticeable that most ponies aren't even aware that the incident happened at all. Unfortunately, all that's about to change, thanks to the return of a certain revenge-obsessed showmare....
This is the fourth story in The Petriculture Cycle; reading the first three stories, which begin here, is highly recommended.
The artwork was provided by Page Turner, and the TV Tropes entry can be found here.
Chapters (3)