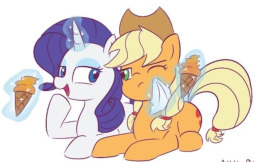 Source
Vanilla oat swirl ice cream is a girl's best friend when she's alone on Hearts and Hooves Day, and at half-off, it would be a shame not to buy any. But when Rarity runs into Applejack at the store, Applejack offers to keep her company.
Rarity is thrilled that she has someone to commiserate with about being single.
Applejack is happy to have a date for Hearts and Hooves Day.
This may be a problem even vanilla oat swirl can't solve.
Chapters (1)