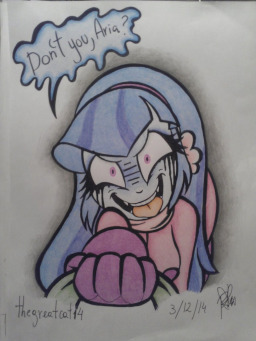 Source
(This story is a non-canon derivation of The Evening Sonata arc, The Sunrise Sonata. There are some minor spoilers.)
Lying in Hospital with multiple stab wounds and broken legs, Aria Blaze is cursing her misfortune and the continuation of the miserable course her life is taking.
Unexpectedly, she receives a visit from her sister, Sonata Dusk. But something is wrong...
This is a nightmare style story, and contains scenes some may find disturbing... if you can picture them in your head, I mean.
Coverart by thegreatcat14
Chapters (1)