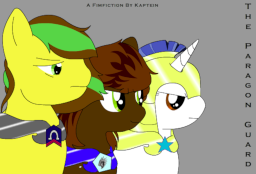 Source
There are twelve of us, four from each tribe. Twelve of the most elite and powerful guards in all of Equestrian history with one goal in mind: to protect Princess Celestia's life no matter the cost. Error is not a word in our dictionary. We don't comprehend the definition of failure.
Honestly, it's not all that bad. Sure it's tight out there - but we're family. A close, knuckleheaded family of brothers and sisters bonded through putting up with Celestia's nonsense. There's not a thing we wouldn't do for each other. The Princess knows it - it's why she trusts us as much as she does. And why we trust the Princess as much as we do.
~~~~~~~~~~~~~~~~~~~
Please note, the format, perspective and even tense will change from chapter to chapter depending on which character's perspective its being written from. Some will be first-person, others third. Just a heads-up.
Remember: If you fave or comment, please leave a 'like' as well! (Or a dislike, and let me know why you didn't like it)
*EDIT* Holy smokes. Featured? This is probably the best day of my life since ever. Wow.
Many thanks to ward282, MagicKnight55 and metallusionsismagic for proof-reading and editing. I wouldn't have made it this far without them.
And also, many thanks to Cormac McCloppy for help with the earlier chapters. I wouldn't be here without him

Chapters (8)