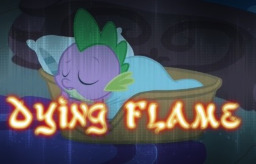 Source
Now has a sequel, One Year Later
---
After a vigorous day of organising and sending reports to Celestia, Twilight notices Spike is feeling a little ill. He slowly grows more and more cold, before finally falling into a coma that Twilight fears is her own fault.
Going to the Princesses for help, Twilight eventually is brought before an Elder Dragon and comes to the realisation that she may have failed as a caretaker, a friend and as an older sister.
~~~
*EDIT* Okay, okay. You guys win - I'll write an additional chapter or two. I've marked this story 'Incomplete' for now. Follow up chapter has been done. If you want more, let me know. I'm sure there are a few other characters I could write a chapter on (Except for the dragons, of course)
*DOUBLE EDIT* Okay, wow. I seriously didn't expect this to take off as well as it has. This is honestly probably one of the best days of my life. I'm so glad and happy that you've all enjoyed the story.
Chapters (4)