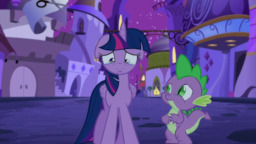 A tough week for the Princess of Friendship has ended with an extended stay in Canterlot to repair broken friendships while also successfully getting Moondancer to embrace it again.
But as Twilight and Spike head home to settle in for a long night's rest, a sudden realization hits Twilight like a sack of hardcover books, leaving her utterly distraught and Spike as the only one capable of consoling her.
If he can, that is...
Chapters (1)