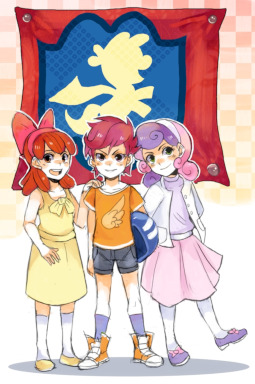 Source
Three girls. How did three girls manage to completely obliterate my understanding of the universe? Well, I guess I shouldn't call them girls (even though they look like they are), ponies would be the better description.
All I wanted was a nice breakfast and a chance to skip class. But the world decided to break on me instead, or maybe I broke it. I can't really make heads or tails of things anymore.
But what I do know is that I found three girls and they were scared. I can't believe I'm saying this, but I've got to help the Cutie Mark Crusaders get back home.
Part of the PonyFall Collaboration
Cover art by suirobo
Chapters (26)