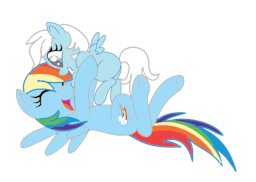 Rainbow Dash takes in a baby Pegasus that was left on her doorstep and affectionately names her Cumulus, she finds motherhood to be harder than it looks but loves the young Pegasus to death. But when it's revealed that Cumulus was born blind, Rainbow finds it harder to raise her with the pain of knowing that Cumulus will never see her mother's face. And as Cumulus grows, she has to fight to find her true self with her disability, and to see the brighter side of life...even if she can't literally see it.
This is a personal story for me, because I am adopted and I do have ADHD, Organic Brain Syndrome and I'm Emotionally Impaired...and trying to get through life with a disability is not an easy ride.
Link to first episode of Dramatic Reading by MLPVoicerNeon!!
My DeviantArt Page!
My YouTube Channel!
My Ask FM!
My Tumblr!
My Wattpad!
Chapters (16)