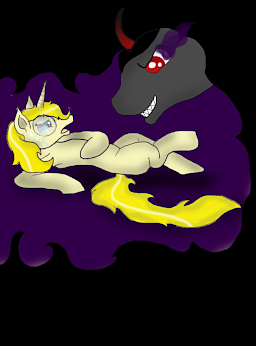 A special thanks to ajvasquezbrony28 for helping me proofread chapter 5 and onwards!
After King Sombra's defeat in the Crystal Empire, the Dark Magic inside of him made him materialize. Making a castle of his own, far away from the Crystal Empire, he plots his next move, he concludes that he needs to raise an ally and searches for a student throughout all of Equestria for the next nine years. He then finds an ally in a foal from the Ponyville Orphanage...the filly he chooses is named Heart's Desire, a newcomer who is described by many as being unskilled, untalented, illiterate and uneducated. Sombra chooses her because he sees a greater magic inside her, what this magic is...he doesn't know. But decides to take advantage of this opportunity, and she is then ripped away from everything she knows is sane and is forced to live with him in his castle in the Arctic North of the Crystal Mountains and forced to be his student in the art of Dark Magic. She refuses constantly out of her fear of the cursed king and tries fervently to avoid him. But when the magic inside her somehow is able to protect her from Sombra's manipulating magic and is slowly taming and bringing the real Prince Sombra back, the father/daughter bond between them begins to form and grow. But the question remains: Can the innocence of a foal bring out the good in a king whose heart has been cloaked in darkness?
Cover: Gleaming Ember
Nightmare Darkness and Downunda Thunda's Cover
Chapter starter picture: Emkay-MLP
Prologue inspired by the canon of the animation A Tale of One Shadow by NatasiaSolitude
I understand that this story might not fit into everyone's headcanons, personally, I'm just here to tell a story. One that I feel you will enjoy; if you feel that this is something that might not be your cup of tea, I must ask that you don't fill the comment section with how much better your headcanon or somebody else's headcanon is. You are allowed your opinions and stories and I'm allowed mine, if you do decide to sit down and read the story and/or follow it, I hope you enjoy!

My DeviantArt Page!
My YouTube Channel!
My Ask FM!
My Tumblr!
My Wattpad!
Chapters (7)