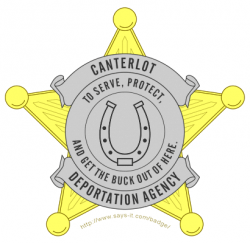 The ponies of the CDA have no natural means of reaching the worlds which have been launching incursions into Equestria, and have no hope of passing for natives should they cross. The Princesses, desperate for solutions, chose to recruit some of those who made the most resourceful, peaceful incursions as the CDA personnel on their sides of the barrier, stopping further disruptions in exchange for hours spent in Equestria. Bree Daniels is the only human agent in her world, a job which offers numerous chances to get killed. But she's survived so far, because Bree has a way of dealing with problems...
...a way which might call into question just what qualities the Princesses are seeking in their human agents to begin with. And how necessary those qualities are.
(Follows the first CDA story: the second one is slightly more optional.)
Now has a TVTropes page and character sheet. New edits welcome.
Now with author Patreon page.
Chapters (1)