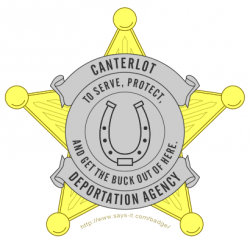 Humans. Over the last few years, they've been appearing in Equestria. Virtually all of them believe they're the first ones to make it there. And they try to move in, take over, and worse. Sometimes much worse. Even the peaceful ones can do damage by accident and there's no way to tell what could happen long-term. Equestria is for ponies and has to stay that way -- and so the Princesses have created the Canterlot Deportation Agency. The CDA exists to send humans back where they came from. Every time. As peacefully as possible, with a minimum of injuries -- unless things go wrong. And things do go wrong.
(Cover art courtesy of GroaningGreyAgony and http://www.says-it.com/badge/)
Has a TVTropes page and character sheet. New edits welcome.
Now with author Patreon page.
Chapters (1)