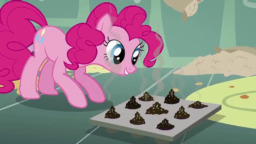 Pinkie's been an apprentice baker ever since she moved in with the Cakes, and part of that is because she hasn't completed her master piece: the dish which will prove she's worthy of the unamended title. For her, that's a soufflé. Something she's never been able to successfully bake.
With the Cakes out of town and the bakery closed for a day, Pinkie has a chance to spend her time in trying to take that final step. And perhaps somewhere before the end of her failures, she'll learn something about why doing so was important --
-- or if it was ever really important at all.
(This story takes place one week before the start of Triptych.)
Part of the Triptych Continuum, which has its own TVTropes page and FIMFiction group. New members and trope edits welcome.
Has a reading by KwirkyJ. Listen as desired.
Now with author Patreon and Ko-Fi pages.
Chapters (1)