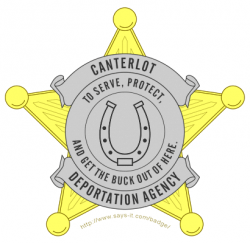 This story is a sequel to Tales Of The Canterlot Deportation Agency: A Typical Day
---
There's a motive behind every deliberate human incursion into Equestria. For the humans coming from Jack's world, it tends to be profiteering, combined with a total lack of empathy and inability to care about anyone who's not making at least three billion dollars per year. Every day, the sum of that equation is measured as lost lives in the shadowfell, and all which keeps the total from climbing higher on the pony side is a single high school student and his newfound friends. Or rather, a group of assistants and the bundle of chemicals which sometimes wears Jack's skin.
The chemicals may be insane. And that madness just might be the only way for Jack to survive.
(Has a TVTropes page and character sheet. New edits welcome.)
Now with author Patreon and Ko-Fi pages.
Chapters (8)