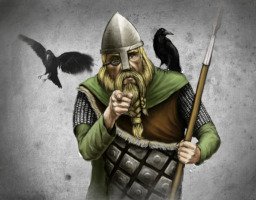 Source
In the ninth century, the renowned and feared viking, Alrik the Strong, had finally set sail back to his home in Scandinavia. After a successful expedition in the Americas, Alrik and his men felt invincible, capable of taking on the vast seas like their heroes, but that illusion of grandeur was torn away from their minds when a furious and wrathful storm capsized his ship, sending his crew into the loving arms of the All-Father in Valhalla.
He was walking, with his men, through the doors of Valhalla, but the being of the highest power denied Alrik's entry. He pleaded, and nearly wept, to go into the promised land of nords, but it would seem that Odin had other plans for the shipwrecked captain.
Plans of conquest.
---
I have returned to writing this. After the abysmal writing I had in the middle chapters all those years ago, I have returned to reclaim my story and reclaim my shame. I will no longer hide, for I am truly back.
Chapters (18)