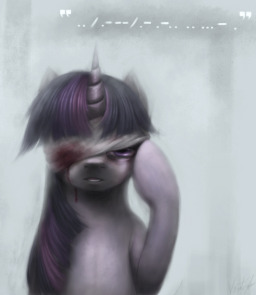 Source
The nightmare of that evening haunts my every waking moment.
A flash of light.
Her powerful form with wings spread wide before me…
She was not just my mentor.
She was also my best friend and for that I will always be grateful for knowing her not as a Princess of Equestria, but as Celestia… The only one who really understood me...
But now? Now I can never tell her how much I truly loved her and how much she meant to me.
They took her away from me.
So I will take everything away from them.
There is a sequel! D=S-M2 and side story! D=S-M: Emerald Mirror
((Somehow Featured on: 12/03/2014 and again on the 06/07/14... mad.
Much love and all credit to the artist: Ventious who owns that picture and is all kinds of awesome. While I have yet to get permission (working on that one at some point), I will remove the picture if the artist demands it so.
And much thanks to these guys for helping me edit/proof and generally bounce ideas about this monstrosity: Grammar Nazi Tach, Discorded Discord,Curify, Lord Inquisitor
TheAccidentalBrony))
Chapters (14)