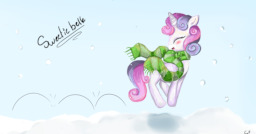 When a snowstorm ends the fun of three kids, they all decide to head home and bundle up for the evening. Of course for Sweetie Belle, she doesn't want her time to end with her boyfriend Rumble and she promptly invites him over to her place. He agrees and they end up both sharing a tender moment by the fireplace.
Edited by: The Abyss, SolidFire, Mikemeiers, and Shadowflash
Gift for Shadowflash
Why is there no cute tag on this site?
Chapters (1)