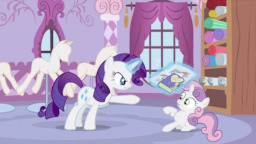 Source
Rarity discovers Sweetie Belle reading an inappropriate comic and decides that it is her moral obligation to tell the world that it's not allowed to exist due to immoral material, but not all of her friends are on board.
Will she succeed? Or will Rarity realize that she's blowing things out of proportion.
AUTHOR'S NOTE: I'm not sure if this is a good idea or a bad one. All I know is I had the idea to write it at three in the morning and I did so in one sitting so let's see if my tired brain is smarter than my not-so-tired brain? Not just a reflection of recent events so much as my view on censorship as a whole.
AUTHOR'S SECOND NOTE: I did not intend this as a trolling thing or anything, but I have to say the reactions I am getting from this fic are positively delicious! Your collective love/hate is enough to make this writer shed tears of joy!
Chapters (1)