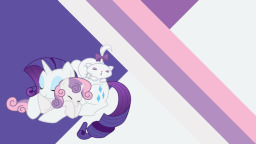 Sweetie Belle is cramping up, but in a new place. She's having a severe craving for chocolate. She's angry on minute, and happy the next. She has no idea what's happening to her, and she's scared for her life. She tells all of this to Rarity... who promptly faints, but has to help her younger sister. It's her duty as a mare.
Credit for cover art goes to Softfang on deviantart. Image found through google.
**WARNING!!** THIS CONTAINS "THE TALK." AND CERTAIN FEMININE PRODUCTS. IF YOU DO NOT WISH TO READ THIS CONTENT, YOU HAVE BEEN WARNED.
Chapters (1)