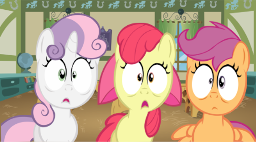 The Cutie Mark Crusaders' plans for an afternoon of crusading are interrupted by a school assignment to write a report on nature. They've heard other ponies talk about "the birds and the bees" and decide to ask their sisters and the rest of the Mane Six for their help on the subject.
Needless to say, the answers they get should make for a very interesting report!
(Cover art composite created from vector images by Alphanz and Sulyo)
Presented as a multiple short chapter story.
Chapters (7)