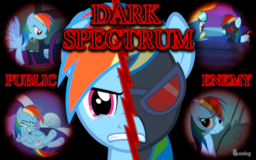 Her heart was broken. Her reputation in Ponyville was in ruins. A menace, they called her. Said she wasn't a real hero. Blamed her for the sudden disappearance of their real hero, Mare Do Well. She'd even been abandoned by her five best friends. Everything she thought she could count on was destroyed.
Bent on vengeance and driven by her raw emotions, Rainbow Dash becomes a villain that Ponyville won't soon forget. But she soon finds that not everything in Ponyville is quite what it seems.
---
Special thanks to DragonShadow, who pre-read and helped me revise this story. Thanks also to JofY, who gave suggestions for the second revision.
---
The comments are full of unmarked spoilers, so watch out.
Obviously, this contains massive spoilers for the season 2 episode "The Mysterious Mare Do Well," and one must have seen it before this story will make much sense.
Rated Teen for violence and some blood.
Chapters (12)