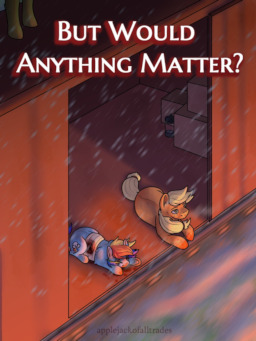 This story is a sequel to No Room In This Hell
---
I've seen it happen before. Ponies get bit and come nighttime, they turn. 
I dunno if they're even really alive at that point, but I know they're strong as an angry bull. It's like they don't care about anypony else anymore, not even themselves. They bite. They've got these fangs and they bite like a rabid dog. 
I turn to look at Rainbow. They got her, too. But we were quick. We got rid of the wing they got 'er at. I think… I think that'll help. 
---
Originally written for Quills and Sofas Speedwriting's Lyrical Contest, where we had 24 hours to write a story based on a lyric or lyrics of a song of our choosing. Thanks to everyone who preread (I swear I'll list y'all later).
Chapters (1)