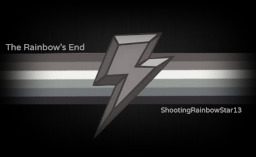 She is Loyalty. She will be the last one standing by her friends, in peril, torture and death.
This is what everyone believes. This is what Twilight and the other Spirits of Harmony, Rainbow's friends, believe. And they took it entirely for granted. After the Mare-do-well incident, Rainbow Dash's Loyalty began to falter. She still felt the terrible sorrow of being deserted by everypony, to be forgotten in the shadow of a greater hero.
Over time sorrow grew to anger. As the powerful bond of friendship crumbles as Rainbow begins to drift away, The others discover just how powerful the Element of Loyalty is, and how its absence might have caused the downfall of the greatest heroes Equestria has ever known.
Chapters (3)