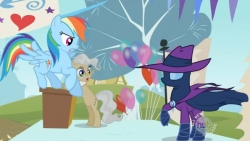 You all saw how the episode ended: Rainbow Dash unmasks Pinkie-Do-Well, the others show up, she learns her lesson, a letter is written, and everything ends up hunky-dory. Well, if I know Dash (and my fellow bronies), I'd bet a group of us thought that this was not at all characteristic of our favorite speed-demon. I have my own interpretation of that day's events, respectfully submitted below for your reading pleasure.
Having lost her one greatest fan to the usurper, Rainbow Dash is brought to a new low. How did she lose it all? Even her five greatest friends seemed to have abandoned her for Mare-Do-Well. And then Scootaloo... No. She would not let this happen. She would not lose everypony she cared about to some mask-wearing intruder. Even if she had to go beyond the limits of legality, morality, or even sanity, she would bring Mare-Do-Well down.
Loyalty is a two-way street.
Chapters (6)