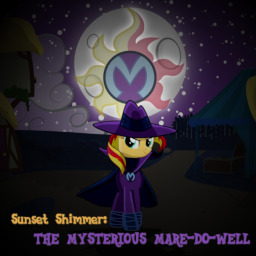 Source
Sunset Shimmer, the protege of Princess Twilight, originally planned to wear her mentor's old Mare-Do-Well costume to a Nightmare Night party. A near-disaster that evening drove her to keep it, taking up the role of Equestria's newest hero.
Takes place after Season 4 in an alternate timeline where the Equestria Girls series and The Cutie Map, and as a result the map episodes of Season 5, never happened.
My first attempt at fan fiction. Any constructive feedback is appreciated!
Special thanks to my proofreader (Chapters 22 & 23), professorsawyer!
Chapters (25)